9th ICAZ AGPM (Archaeozoology, Genetics, Proteomics and Morphometrics Working Group)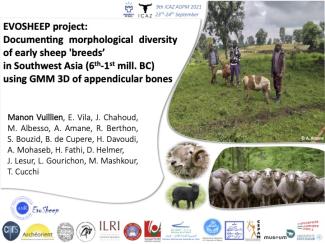 Oulu, Finland
9th ICAZ AGPM  (Archaeozoology, Genetics, Proteomics and Morphometrics Working Group)
23-24  September 2021 // Oulu, Finland
Oral Paper : Manon Vuillien, Emmanuelle Vila, Jwana Chahoud, Moussab Albesso, Agraw Amane, Rémi Berthon, Sofiane Bouzid, Bea de Cupere, Hossein Davoudi, Homa Fathi, Daniel Helmer, Joséphine Lesur, Lionel Gourichon, Marjan Mashkour, Thomas Cucchi
EVOSHEEP project:  Documenting morphological diversity of early sheep 'breeds'  in Southwest Asia (6th-1st mill. BC) using GMM 3D of appendicular bones
The EVOSHEEP project focuses on the complex history of early sheep (Ovis aries) husbandry in Southwest Asia between the Late Neolithic and Final Bronze Age using a multi proxy approach (morphometrics, genetics, iconography) to identify the biological and anthropological components behind the emergence and development of early sheep breeds.
One of the challenge in this approach is to be able to disentangle the impact of anthropogenic selective pressure from ecological conditions on the skeletal morphology of sheep on a large scale. As a first step towards this understanding, we first explored the extent of morphology diversity and change in domestic sheep populations across southwestern Asia over the last 8 000 years.
Using the recent development in virtual morphometrics on distal humerus, calcaneum and astragalus bones, this paper will present our latest thoughts from the comparative study of ancient sheep from forty archaeological sites across Syria, Lebanon, Iraq, Azerbaijan, Georgia and Iran between the 6th and 1st millennium BC with current traditional breeds of sheep from Middle East and Eastern Africa whose husbandry practices are well documented.
University of Oulu, Pentti Kaiteran katu 1 Linnanmaa, P.O.Box 8000 FI-90014 University of Oulu
63.6614714
7.1794218